Fan favorite Robinson Cano has tested positive for an illegal substance. His punishment is set at 80 games. This news breaks just 1 day after being placed on the 10 day disabled list for breaking his hand. This is not an easy article to write and I don't even know what to think of this yet, but I need to get these emotions out. Robinson is one of my favorite players in the game. He is a great team player that always has the biggest smile on his face and seems to be everyone's friend. He is always the first out of the dugout to congratulate a teammate for a good hit or great play.
I am not going to share my opinion on steroid use in the MLB because it is an unpopular one, and quite frankly it doesn't matter. The bottom line is that it's illegal and everyone knows it. Robinson broke the rules and the punishment fits the crime. I will however share my theory about why Robinson would risk the Mariner's season with this seemingly selfish act.
Last year was an extremely aggravating year for Robinson Cano. He saw the disabled list multiple times, with most of the issues coming from muscles strains to his legs. He was moving slow. He could barely run to 1stbase and wasn't covering his position as well. It wasn't the same Robbie we had seen in the past. It had looked as if the end was nearing for Robinson at 2ndbase and he would play out his time as a DH in the very near future. Fast-forward to this season and Robinson is a new man. He is running better than he has in years and covering second base like the All-Star he is. Could it be possible that Robinson turned to steroids in the off-season to try to get back to 100%? We have heard of many athletes turning to steroids, not for bigger muscles and an edge, but to simply deal with injuries. Being a professional athlete can cause a lot of stress on your body and you don't always have the proper time to recover.
Missing the next 80 games almost guarantees Robinson will not hit 30 doubles this year. When he would have hit 30 this year, it would have passed Stan Musial's previous record of 12 consecutive seasons of 30 doubles or more. It looks like the record will stay at 12 seasons tied between Cano and Musial. I also have to believe this is going to put a damper on his Hall of Fame bids when the time comes. He currently has 10 which was well ahead of pace
I am disappointed, angry, concerned and confused. This is going to be a rough time for Mariner's fans, but we will get through these 80 games, and welcome Robbie back to the lineup when he has paid his dues.
In the mean time who will fill his position? I don't think Andrew Romine, Gordon Beckham or Taylor Motter will be able to fill this void and Dipoto already said Dee Gordon would be staying in center field. We may need to make a trade soon if we want to stay in the playoff hunt.
:::::UPDATE:::::
Cano just released this statement: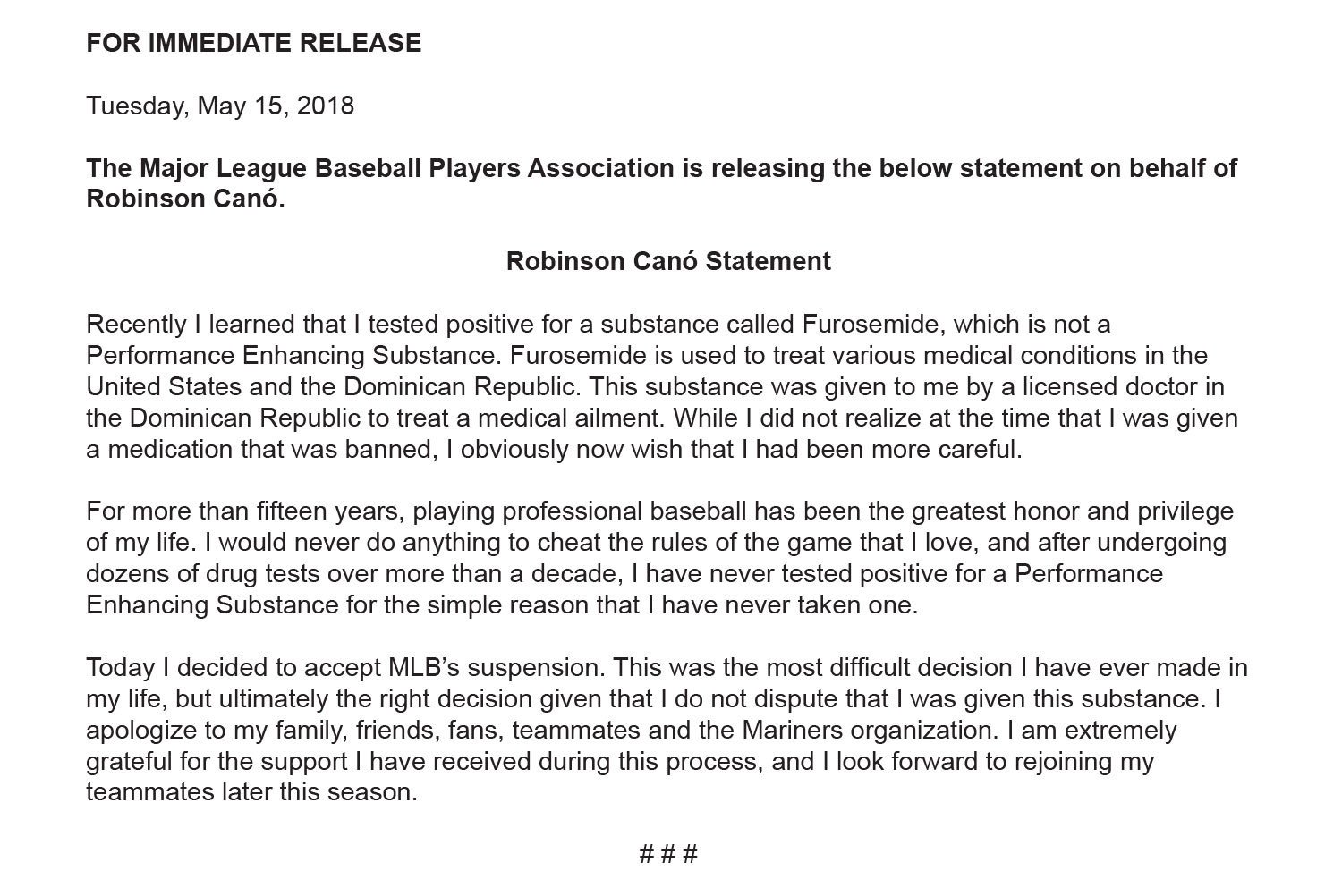 If this is all true and I sure it is, this is a huge bummer and miss communication. Cano seems to not be fighting this "technicality" at all because he is not denying the fact that he took this substance. he is however pleading ignorant to the fact that it was illegal when the doctor prescribed it. As a professional athlete I fell like you have to be a little more cautious about what you are taking.
Robinson, we are not mad at you, just slightly disappointed and upset at the situation. Get better and we will see you soon.
-CS